<![if !vml]>

<![endif]><![if !mso]>

<![endif]>

Erol Gelenbe , FIEEE and FACM, is known for his leadership in the field of computer and network performance evaluation, including applications to industry. A current interest is the interaction between energy consumption Cloud Computing and Quality of Service. He is the Dennis Gabor Chair Professor in Electrical and Electronic Engineering at Imperial . A Member of the French National Academy of Engineering, the Science Academy of Turkey, Academia Europaea, and Foreign Member of the Hungarian Academy of Sciences, his recent awards include: http://www.sigmetrics.org/achievementaward-2008.shtml & http://eandt.theiet.org/magazine/2011/01/profile-prof-gelenbe.cfm

Erol coordinates the research project EU FPC ICT-8 NEMESYS (2012-2014) on Mobile Network Security, and new projects include the EPSRC ECROPS (2013-2015) on Energy Savings and Harvesting in ICT anda MoD/DSTL Project on Energy Savings. He participates in the project Smart Networks at the Edge of the European Institute of Technology. A Distinguished Lecturer of the IEEE Communication Society for 2013-2014, his recent publications can be found at http://san.ee.ic.ac.uk and http://sa.ee.ic.ac.uk . Recent/Future Conference Chairships & PCs include: General Chair IEEE NCCA (Dec 3-5, 2012) https://sites.google.com/site/ieeencca2012 , Co-General Chair IEEE HPCC 2013, http://trust.csu.edu.cn/conference/hpcc2013/ , PerNEM Workshop Co-Chair (PERCOM Conference), IEEE MASCOTS 2013 TPC Co-Chair , http://ieee-ssci.org & EU Future Network Summit 2013, http://www.futurenetworksummit.eu/2013/ & ICAC2013, June 26-28, 2013, Self-IoT: Self-aware Internet of Things https://www.usenix.org/conference/icac13/self-iot-self-aware-internet-things . He is associate editor of Acta Informatica, IEEE Networks, ACM Ubiquity, Performance Evaluation, IEEE Transactions on Cloud Computing, Theory and Applications of Informatics, Telecommunication Systems, InfoCommunications Journal.

<![if !mso]>

<![endif]><![if !mso & !vml]> <![endif]><![if !vml]>

<![endif]> <![if !vml]>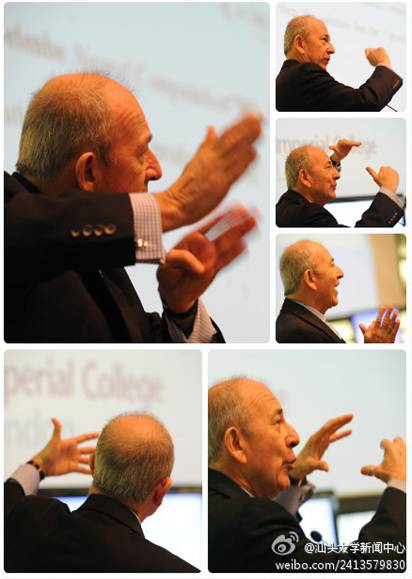 <![endif]> <![if !vml]>
<![endif]>

Recent/Future Keynotes & Invited Lectures

- IEEE Communications Society Distinguished Lecturer 2013-2014

- "Cognitive Packet Networks", The 9th International Conference on Semantics, Knowledge & Grids , Beijing, China, Oct 3-4, 2013

- "Trade-offs between Energy and Performance in Computer Systems and Networks", UK Performance Evaluation Workshop, 4-5 July 2013, Loughborough Uni.,. http://ukpew.lboro.ac.uk

- "New routing controls to reduce data center energy consumption", ATOMS MATTER, TTI VANGUARD Conference, http://www.ttivanguard.com/atoms/atomsmatterspeakerstopics.pdf July 9-10, 2013, Vienna Austria.

- "Steps Toward Self-Aware Networks", Polish Acad. Sci.: Conf. on Comp. Networks, June 18, 2013, http://cn.polsl.pl/default.asp?service=wiadomosc&Id=12

- Prometheus Theme Lecture "Big Data for Bioinformatics" (Feb 18, 2013, Shantou University), http://www.lksf.org/en/media/press/20130218 Li Ka Shing Foundation Conference for the "best senior high school students from all over China ". http://paper.takungpao.com/html/2013-02/19/content_40_5.htm
- 25th & 26th Dec. 2012, Dept. of Probability, Faculty of Mathematics and Mechanics, Moscow State University, www.mathnet.ru/php/seminars.phtml?option_lang=eng&presentid=5991 & Institute for Inf. Transmission Problems, Russian Academy of Sciences http://www.iitp.ru/en/news/902.htm
- Invited Paper "The Complex Economic Networks of the Digital Society", International Workshop on Trends and Challenges in Networking (Technion, Haifa), October 31, 2012, http://workshop.ee.technion.ac.il/index.php?EVT_SysID=176

- UCF Orlando CECS-CS Division Distinguished Speaker, 13/8/2012: "Networks of Networks in the Digital Society" http://www.cecs.ucf.edu/eventinfo?EventID=361

- Keynote Speaker, ACM/EuroSys (Bern, Switzerland) 2012 Cloud Comp. http://www.wikibench.eu/CloudCP/?page_id=49

- Opening Keynote Speaker, "Energy Packet Networks: Adaptive Energy Management for the Cloud", SIMUTOOLS 2012 (Desenzano, Italy) Opening Keynote "Energy Packet Networks: Modeling Smart Electricity Storage to Meet Surges in Demand" http://www.simutools.org/2012/Programme/Keynotes

- Opening Keynote Speaker, "Networks in Emergency Cyber-Physical-Human Systems", IEEE ICCCN 2012 (Munich ), http://www.icccn.org/icccn12/ICCCN2012-Program-Overview.pdf - EPSRC/ICEP 2012 http://www.doc.ic.ac.uk/icep/programme & http://www.cs.ox.ac.uk/seminars/689.html & http://www.iidi.napier.ac.uk/c/news/newsid/13369099

- Opening Keynote Speaker, "Sensors in cyber-physical emergency systems", IET WSS 2012 (London ) http://conferences.theiet.org/wss/programme/dayone/index.cfm

- SICSA 2011 Conference (Edinburgh) http://sites.google.com/site/sicsaconf2011/workshops , VECOS 2011 (Tunis ) Opening Keynote http://vecos.ensta-paristech.fr/2011/programme.html

- Opening Keynote Speaker, "Steps Toward Self-Aware Networks" 10th IEEE CIT 2010 (Bradford), http://www.scim.brad.ac.uk/~ylwu/CIT2010/keynotes.html

- Keynote Speaker, "Improving QoS through Network Real-Time Measurement and Self-Adaptation", 23rd IEEE AINA 2009 (Bradford), http://www.inf.brad.ac.uk/~iawan/aina/keynote.php

His c urrent research addresses three related areas:

- Performance of autonomic & self-aware networks, including applications in energy savings and QoS.

- The performance and control of collaborative or adversarial agents in cyber-physical environments: network auctions, emergency management and evacuation, search.

- Network models in biology, gene regulatory networks, spiked neuronal networks, chemical reaction networks.

Recent best paper awards include Chinacom 2008, NATO C3 Conference 2009 (Bucarest), Energy2011, GreenNets2011. His recent publications appear in several ACM & IEEE Transactions (Internet Technology, Sensor Networks, Adaptive and Autonomous Systems, Comput. Biology & Bioinformatics, Systems Man & Cybernetics), Computer Journal, Physical Review E, Proceedings Royal Society A, Neural Computation, Telecommunication Syst., etc.